Following a few months of reconstruction, my family and I relocated to our new house (still within Bloomington) at the very end of last November. Parts of the move have been complicated, especially the moving during the holidays part, so the process has been slow resulting in only a few things making it to the new house at a time. In these small trips, I moved any studio items I could: a drawer, a table, a few pieces of paper.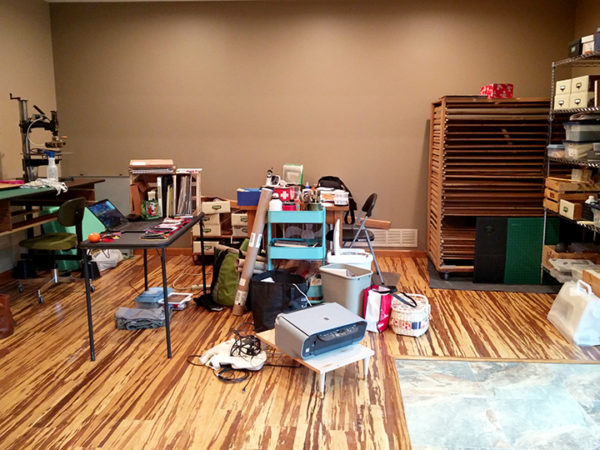 As I continued to work in the midst of the small chaos, I had a strong reminder of how reliant I am on my surroundings being arranged just so. I would love to be a person who can work in the midst of a cyclone, but I am too particular! I had been displaced from the studio I knew to a new room void of spatial recognition. Drawers of tools existed but in no order, materials I need were split between houses, and it was hard work to stay oriented to the day's task.
Most of the studio is now relocated, with the exception of "Shear-A the princess of cutting", my most treasured co-worker, my board shear.
I have now achieved a sense of order. Things have been moved and moved again. It feels more or less like "home", and like this bird of paradise, I continue tending the details of my space and prepare for my future "spectacular performances". It is evident that both my work and my dance moves are undeniably inspired by nature.